Social Media Optimization
SMO is the used to generate publicity to increase the awareness of a product, service brand or event. 
SMO is similar to search engine optimization, with the goal to generate web traffic and to a site and increase awareness for a website.
 In general, social media optimization refers to encourage more users to use and share links to the website across social media and networking sites.
The intention to develop SMO is to drive traffic to your Web site.
The goal of SMO is to create interesting online content.
Thus, it encourages and entices people to engage with a website.
The social media optimization is also an effective way of implementing online reputation management (ORM).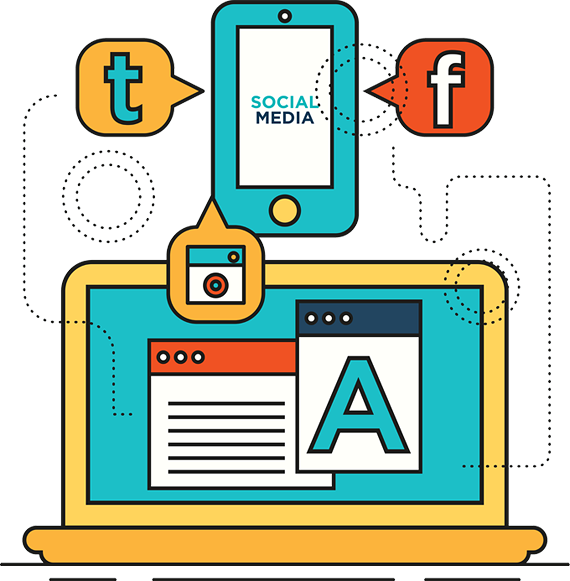 Why Social Media Optimization (SMO)?

Increases your brand awareness

Increasing popularity of Business on Search Engine

Succeed in the wider collection of web user community and thus increasing potential ranking right away

Assists to create top quality backlinks

 

via precise number of networking profiles
Types of social media
Social networking sites
Facebook
An organic approach to Facebook optimization is cross-linking different social platforms.
It enables posting links to websites or social media sites in the profile 'about' section.
Moreover, it is possible to direct traffic and ultimately increase search engine optimization.
Read More
Twitter
Twitter is an online news and social networking service where users post and interact with messages, known as "tweets."
Likewise, Twitter places great reliance on open-source software.
Read More
Blogs
A blog is a discussion or informational website published on the World Wide Web.
Additionally, blogs also provide commentary on a particular subject or topic, ranging from politics to sports.
Read More
YouTube
YouTube is a free video sharing website that lets people upload, view, and share videos.
Users who have accounts can also subscribe to channels.
Read More
Lower Marketing Cost
A well-strategized marketing campaign on social media is enough to enjoy a maximum return on investment.
Increase Brand Visibility
With social media marketing service, you would appear in front of users when they browse through the various social networks.
Communication channel
Social Media is a great platform where brands can communicate & build a relationship with their customers.
High Conversion Rates
On social media platforms, one can easily advertise to a targeted audience with high conversation rate thus saving marketing budgets.
Improve Brand Loyalty
Social media marketing lets you engage & interact with your customers regularly. It also takes their feedback thus improve your brand image & loyalty.
See How Well Your Page is Optimized
Let us help you get your business online and grow it with passion.
Our team of professional SEO experts is the perfect partner for a successful business partnership.